It's not easy for a business to get accreditation from the Better Business Bureau. After applying, your local BBB will study your business practices, looking for ethical advertising, selling and customer experiences, and lawful behaviour.
Of the many thousands of businesses on Vancouver Island, only about 1000 have earned BBB accreditation. But even harder than getting accredited is earning an A+ rating — the highest offered by the BBB. Ratings depend on factors like the business's complaint history with the BBB, transparent practices, licensing and advertising ethics.
Parksville's M&N Mattress and Sofa Gallery has had BBB accreditation since 2012, and maintained the impressive A+ rating since 2015. That year they won their first BBB Vancouver Island Torch Award, and they've been finalists or first place winners every year since 2017. This year, they're finalists in the highly competitive customer service category, an award they've won twice before.
"Some categories are narrowed down to a specific industry or trade, but the customer service category is open to all 1000+ BBB accredited businesses. We're honoured every single time we're nominated, but this one is a particularly big deal to us," says M&N owner Mark Nagra. "We also want to thank our customers for supporting us for over two decades, and taking the time to nominate M&N this year."
Torch Award nominations are only open to BBB accredited businesses with a 'pass' rating, and must be submitted by customers.
"Forty-nine companies have been selected as finalists by an independent panel of volunteer judges, and winners will be announced across 14 different categories at our awards gala on Nov. 3," says Rosalind Scott, president and CEO of BBB serving Vancouver Island.
"It's like the Oscars of business. There's a lot of nail-biting excitement at the gala, and the BBB does a great job of recognizing all of the amazing finalists – not just the winners. Everybody is a winner there, and should be proud. Running a business takes a lot of commitment. We just want to make our customers happy," Mark says.
Award-winning staff
Providing exemplary customer service is a team effort at M&N Mattress and Sofa Gallery.
"If all of our staff weren't on board, we wouldn't have been nominated. Customer service starts the moment a customer walks into the store, and doesn't stop until our final follow-up call after their purchase has been delivered," Mark says.
"My wife Neelam is a fantastic salesperson, customer service expert and the best manager on the planet. She deserves huge credit for this award nomination — she runs a smooth ship."
In the store, staff study continuously, so they can help customers make an informed decision. Theresa deftly manages the Sofa section, Liam is a service call specialist and warehouse manager, Natasha ensures deliveries are organized and Sukh is a sales professional. When customers make a purchase, the delivery team of Silus and River continue the quality customer experience.
"We offer a short delivery window of just two hours, at a time that's convenient for the customer, so they can go about their day. We always aim to deliver at the beginning of that window, and call ahead if there are any delays," Mark says.
"Silus and River are the last representation of M&N the customers see, and we get so many compliments about them which is huge."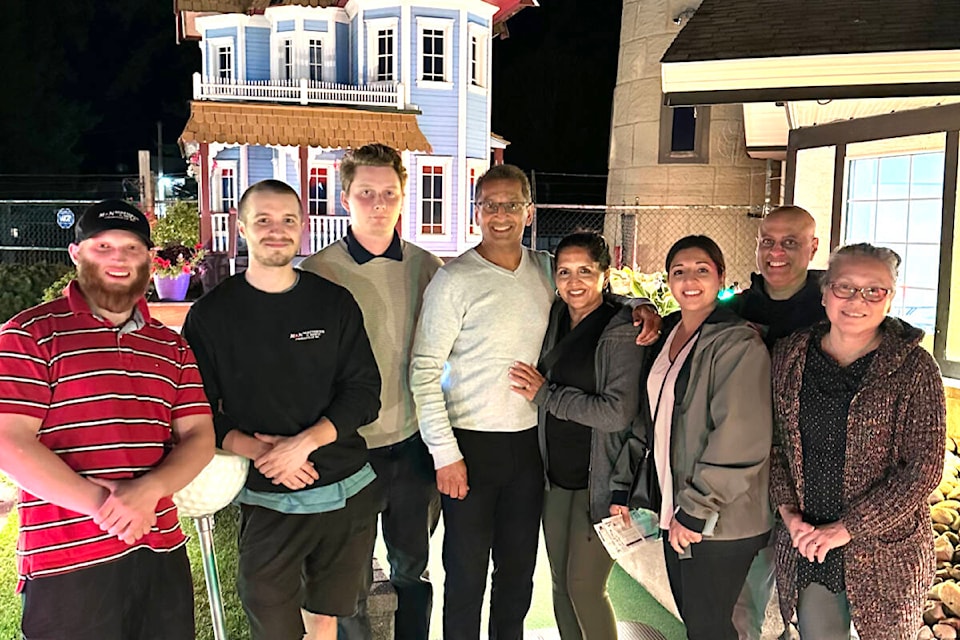 Mark says he's been lucky to always have great employees, but realized just how special his current staff are during a recent vacation.
"I don't think Neelam and I received a single phone call from staff while we were away, because they had everything under control and they wanted to give us a break. How great is that? It's a dream for business owners."
Sitting by the pool in Mexico, Mark and Neelam hatched a plan to reward their current staff. Next March, they'll shut down the store for the first time in over 20 years, and fly the entire staff to Mexico for a quick break.
"We'll do some team building, and just thank our staff for their dedication to our customers and community."
Visit the expert staff at M&N Mattress and Sofa at 291 East Island Highway, or get inspired at parksvillemattress.com, mnsofa.ca or ironmanmattress.ca. Make sure to follow M&N Mattress and Sofa on Instagram @m.and.n.mattress.shop and at facebook.com/parksvillemattress.