Summer is on its way … are you ready?
If your outdoor space isn't all you want it to be, now's the time to spruce things up! Of course, that starts with considering what you're looking for – what will help you enjoy summer to the fullest from your porch or patio?
To get a few ideas on how to make that happen, we visited with the local experts at Coombs Junction Furniture for their go-to tips for preparing for patio season…
Get ready – Start by thinking about how you used your patio, porch or garden last year, and how that could be improved. Perhaps your wishlist includes a new umbrella to provide valuable afternoon shade, or more comfortable seating for longer reading breaks. Don't forget a table for your lemonade!
"We find that for most families, outdoor dining and seating are two key elements to spending summer outdoors. With patio season here, it's time to create a space that you'll use and enjoy," says Coombs Junction Furniture owner Parry Gallagher.
Get set – Consider the essentials, such as comfy chairs or an outdoor sectional, an eating area suited to your needs, whether it's a bistro set for two or a full, family-size dining suite, and access to sun or shade as needed, with a flexible, portable market umbrella.
If your space felt too cramped once you added your herb planters and flower baskets, consider new seating that lets you better navigate a smaller space.
And, because outdoor furniture is exposed to the elements, as well as the usual use, it's important to select quality pieces that are built to last in our West Coast environment.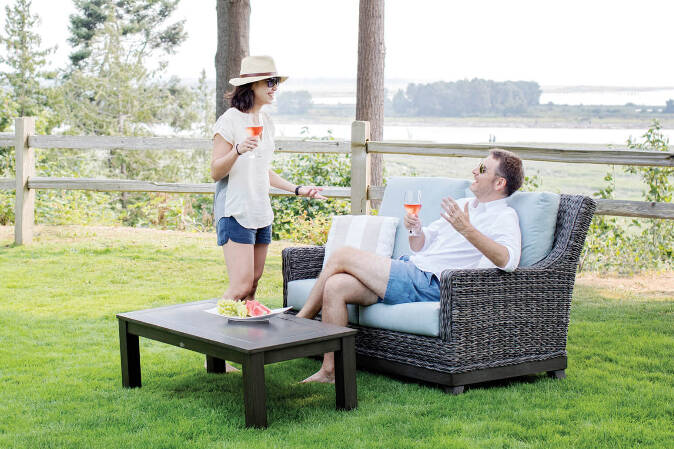 Go! – Finally, add those special details that will make your outdoor living area more inviting. A gas or propane fire pit will let you extend the party into evening and create a cosy setting for your morning coffee, and lighting – crucial for any space, indoor or out – will add both atmosphere and functionality when the sun sets.
Whether you're adding the finishing touches or creating an entire outdoor living space from scratch, the team at Coombs Junction Furniture and Mattress, with B.C.'s Ratana, the No.1 name in outdoor furniture, will have you sitting pretty in no time, offering timeless furnishings in contemporary, traditional and transitional styles.
Get ready for patio season at Coombs Junction Furniture today to get the essentials you need. Stop by at 2701 Alberni Hwy. or online at coombsfurniture.ca. You can also stay up-to-date on all the happenings on Facebook!