If you're in the market for a new mattress, bedroom suite or sofa on Vancouver Island, you're in luck — the Better Business Bureau just handed out their annual Torch Awards, and Parksville's M&N Mattress and Sofa Gallery won in the Customer Service category again!
Each year, the BBB welcomes nominations for Vancouver Island businesses that go above and beyond for their clients and peers, and are committed to ethical business practices. Nominations for these prestigious awards come from customers, and then it's up to a panel of BBB judges to select a winner.
"Judges are looking for stories that demonstrate how a business demonstrated ethics, trust, reliability, honesty, service, fairness and respect," the BBB website says.
Mark Nagra, owner of M&N Mattress and Sofa Gallery, was thrilled to be nominated for the Customer Service award earlier this year, then to be named a Top Three finalist, and found out on Nov. 5 that he and his staff had earned top spot, winning first place again!
"It was so awesome! I'm always nervous at the awards, not knowing if we won until they announce the winners. It was a lot of fun to be at the gala in-person again, and to win was the icing on the cake," he says. "The BBB Torch Awards recognize the best of the best, and to win in the customer service category out of over 1400 BBB Accredited businesses, it's a real honour. We've taken customer satisfaction very seriously over the last 20 years and fortunately have won more BBB Torch Awards since 2015 than any other retailer on Vancouver Island. That's the most rewarding feeling for the hard work our team puts in on a daily basis. It's a feeling that's hard to describe, but makes us very proud and puts big smiles on our faces. I'm still smiling!"
To make up for having to cancel the 2020 event due to the pandemic, the BBB pooled nominations for businesses that were nominated in the last two years, making M&N's win that much more impressive. Mark is also sticking to his promise, and donating $1000 to the Parksville S.O.S. as a Thank You to the community that helped them win the BBB Torch Award.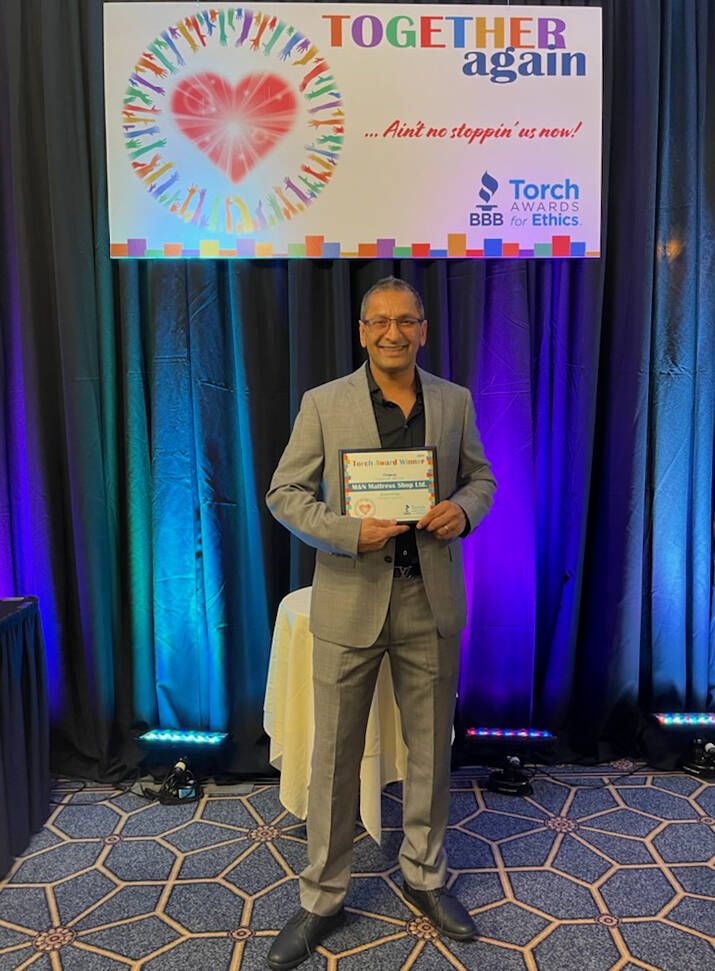 M&N (and their customers) donate $8325 to local Legions
From Oct. 13 to Nov. 11, M&N Mattress and Sofa Gallery donated $75 from every invoice over $999 to local legions, reaching a very impressive total over the past month.
"It's very exciting to be able to do this for our community!" Mark says.
The $8325 will be split between the Bowser Legion (Branch 211), the Parksville Legion (Branch 49) and Qualicum Beach Legion (Branch 76) to support their services for veterans and the community.
"The Legion not only supports veterans, but also regularly gives back to the community through donations and volunteer support to other local non-profits. We're proud to be supporting such a great cause," Mark says.
Visit the expert staff at M&N Mattress at 291 East Island Hwy, or get inspired at parksvillemattress.com or mnsofa.ca.