Breakfast is the most important meal of the day, but at more than 8,000 feet in the air, Ryan Doty's lunch is often the biggest for him — at least in elevation.
Revelstoke's atmosphere in the winter could be defined by a few things: snow, warm pubs, and the whir of helicopter blades cutting the crisp mountain air from sunrise to sunset.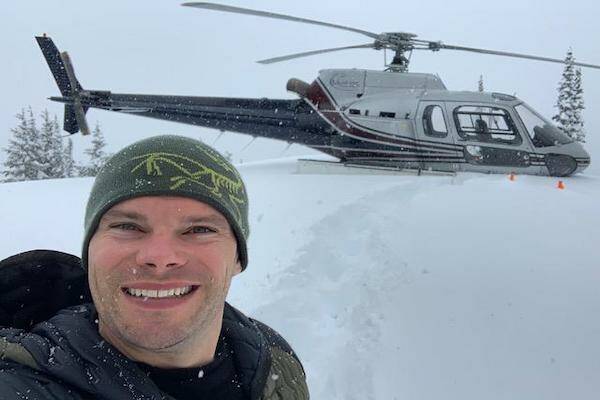 In 2014, the New York Times described Revelstoke as "home to some of the planet's best heli-skiing" — it was true then and it has only grown. With more than four separate outlets in town, heli-skiing business is as big as the mountains they fly to. Behind every article, picture, or video of sultry slopes accessed by heli-skiing are dedicated – and underrated – pilots navigating treacherous skies to drop riders on top of the world. Steven Coté and Ryan Doty are pilots for Canadian Mountain Holidays (CMH) and Selkirk Tangiers Heli-Skiing (STHS), respectively.
"I'm one of those people that I cherish my sleep. So, I set my alarm for as late as possible," said Doty with a laugh.
After savouring the last few minutes in his bed, Doty is up at 6 a.m., in his truck, and out to the Hillcrest Hotel for the STHS morning meeting. The meetings cover everything from weather, snow conditions, to passenger weight (which factors into fuel calculations) and ensuring the all-important half mile of visibility.
Doty said he's "not a big breakfast guy," so after the morning meeting, he wolfs down a quick granola bar and heads out to inspect the aircraft, which involves a brief chat with the engineers about any maintenance done or planned. Between 9 and 10 a.m., Doty said the first round of groups are usually ready to head up, so he jumps in his helicopter and "zips" to the staging area where the group is heading out from.
Steven Coté's morning is similar. Up at 6 a.m. and down to the Regent Hotel, where CMH is based for a brief meeting to go over the day's plan. Coté likes his breakfast, so he sits in at the hotel, which provides his meal at 7 a.m. Before long, he heads to the hangar and reviews his aircraft before going to one CMH's staging areas, like the one near the Revelstoke Snowmobile Club.
The two men start their day in similar fashion to so many jobs — an early rise, a commute, and a morning meeting. The difference in their job is that they spend their workday operating a mechanical marvel in some of the most adverse conditions and terrain in the world, making them among the best in their field.
Marc Ledwidge, helicopter rescue specialist, has a history working in the mountains. In his career, he worked as a mountain guide, search and rescue manager for Parks Canada, and a representative for Canada with the International Commission for Alpine Rescue (ICAR). Helicopters and their pilots always factored closely into Ledwidge's work. He said that when it comes to pilots, "we're not all created equal."
There's a hierarchy in flying. Fixed wing (airplanes) piloting would be considered hard, standard helicopter piloting might be considered harder, and helicopter piloting in the mountains is often considered the hardest. Heli-ski piloting is in a field of its own.
"You're dealing with terrain – steep terrain – and difficult terrain, and obstacles. And then very complicated winds, and wind flows. That takes experience for a pilot," said Ledwidge.
On top of the operational challenges of controlling the aircraft, heli-ski pilots must also be proficient and efficient mathematicians. While taking off and landing comes with experience, fuel calculations are based on group weight, distance travelled, and altitude.
"These helicopters are so big and expensive as it is, and they burn a massive amount of fuel," said Doty.
Doty compared the helicopter he flies to a Bell UH-1N, more commonly referred to as a "huey" used in the Vietnam war, which burns around 600 lbs of fuel per hour.
"I'm close to 700 pounds. I think it's two barrels an hour," said Coté.
Doty summarized the daily challenges that he, Coté, and other heli-ski pilots must consider.
"You're always pushing the limits. You're trying to land up as high as you can in the whitest conditions imaginable. Most of the time it's windy, and the higher up you go the helicopter's performance decreases. So, you have all these things going against you and you really have to be switched on," said Doty.
With the challenge of operating and managing fuel, Coté and Doty said that heli-ski pilots always have multiple back-plans.
"We call it our back door like you never want to get yourself in a situation you can't get out of," said Doty.
The passengers in the helicopters are the final variable in the piloting equation, and the hardest to predict. To mitigate the risk that passengers pose, heli-skiers are given an extensive safety briefing before heading out. The pilots said that skiers still make mistakes when what they call "turbine psychosis" sets in.
"Their minds are overwhelmed with excitement and noise." said Doty.
Turbine psychosis isn't a real psychological term, but an invented one by pilots to describe the phenomena of how passengers act differently around a helicopter. Part of the pilot's role is to remind the passengers to settle down, even though they're getting out of a helicopter on top of a mountain.
Doty noted that he's likely seen it happen at STHS more than Coté would have at CMH, due to the different style of heli-skiing each company offers. STHS offers day heli-skiing, whereas CMH specializes in longer heli-skiing for a few days at a time, which gives riders more experience around the aircraft.
Doty got involved as a heli-ski pilot almost 10 years ago, which was 10 years after he first moved to Revelstoke. Having learned to fly at 18, Doty headed north to Yellowknife to get more hours. He avoided heli-ski piloting initially because he'd heard "how difficult to fly in it can be, and how dangerous it can be." He didn't start as a heli-ski pilot until he had over 6,000 hours and he said it took him more than three years after that to feel comfortable.
Flight hours are vital to a helicopter pilot. Out of school, pilots might have roughly 100 flight hours, but most commercial outlets require over 2,000.
"That really is the bare minimum because that's potentially only like four- or five-years' experience from flight school," said Ledwidge.
Coté started flying helicopters in his early 20s, but – like Doty – he didn't get into heli-ski piloting for a while. He's lived and worked in Revelstoke as pilot since 1995 but didn't start working as a heli-ski pilot until the last 20 years.
As a pilot with CMH, Coté is among the ranks of an organization that is alleged to have pioneered heli-skiing.
The origins of heli-skiing are debated depending on the source you check. Some credit Mike Wiegele, founder of Mike Wiegele Heli-Skiing Resort in Blue River, as the first person to charter a helicopter to untapped mountain ski terrain. Several sources, however, credit Hans Gmoser, founder of Canadian Mountain Holidays, as being the first person to have started heli-skiing. In the mid 1960s, Gmoser and his business partner were ferrying skiers into the Bugaboos where they would then hike to the ski areas. Over time, the system evolved to dropping them at the peaks, and CMH remained a prominent outlet in the industry.
STHS has its own storied history, involving a fourth-generation Swiss mountain guide. Peter Schlunegger brought heli-skiing to the Revelstoke area in the late 1970s. The early groups started in Rogers Pass at Albert Canyon, where they camped in RVs off the highway.
STHS partnered with Revelstoke Mountain Resort to host the YETI Natural Selection Revelstoke snowboarding competition in 2023. The unique event takes place exclusively in the backcountry, so most equipment and all the 24 professional competitors will rely on heli-ski pilots to access the event.
Natural Selection is just the latest credit for an industry that has become synonymous with the Revelstoke region.
Before Natural Selection reaches Revelstoke, Doty and Coté will have already flown over 400 hours in the season, taking off and landing 80–100 times per day.
The work takes a toll on the two men, who both said it takes a day or two into their days off to settle down. Still, they come back to the work for their own reasons. Doty spoke about the days he gets to sit up with the group he's flying with and have some lunch and look out over the valley.
"All the March blue sky days make it worthwhile," said Doty.
Coté echoed Doty's reasons, adding that he appreciates the challenge of the days that aren't clear — when the snow is coming down, but visibility is still good, and the fuel levels are okay, and there's not much wind.
"You're kind of having fun even in those days – although it's not bluebird – everything's working well," said Coté.
While those who don't fly may view the pilots with awe, Coté and Doty have their own description of their work.
"We're making dreams come true as safely as we can," said Doty with a smile.
"We're just taxi drivers," said Coté with a laugh.
READ MORE: Winter composting with Revelstoke's Local Food Initiative
READ MROE: Good news stories from 2022 to reflect on in 2023
---
@ZacharyDelaney
zach.delaney@revelstokereview.com
Like us on Facebook and follow us on Twitter and subscribe to our daily and subscribe to our daily newsletter.